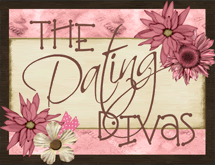 I came a cross a link to a blog called
The Dating Divas
. At the top of the blog they have a quote:
Marriage is not a noun; it's a verb. It isn't something you get. It's something you do. It's the way you love your partner every day. -Barbara De Angelis.
I totally loved this quote. They
discovered
that once each of them was married to a super-duper hottie, of course, but they were discovering that they were letting
LIFE
take over...and weren't focusing on their husbands as much as they would like! I think many of us can agree we have found ourselves in the same boat a time or two. So they quickly came up with a plan. They would take turns posting a super fun,
creative
, AND inexpensive date each week on their "Dating Divas" blog! This is such a great idea!
One Idea they had was to have a Minute to Win it date night with their couple friends I am totally going to do this! Anyways, check out their blog for some great creative date night ideas with your hubby.
02